Let's start with the difference between shared hosting and VPS hosting.
Shared hosting is a simple option to set up a site and start accepting visitors as soon as possible. Unfortunately, it can quickly backfire when websites grow in popularity because more resources are consumed and more sessions are delivered each moment. Eventually, things can come crashing down or slow to a crawl.
A Virtual Private Server, or VPS, is a more advanced option than shared web hosting. It's a single server split into individual virtual machines, running their own operating systems handling custom configurations. Unlike shared hosting, VPS has dedicated resources (RAM and CPU) and is independent of all the other websites on the server.
In short, VPS is perfect if you need the benefits of your own dedicated server, but don't want to pay a lot.
Upgrading to a single or cloud-based VPS will provide instant deployment, low startup costs, paying only for services that you use and easy upgrades.
The sheer number of Virtual Private Server companies out there right now is overwhelming. Luckily, that's what we're here for – we'll break it down for you.
1. InMotion Hosting – Best for More Resources ($27.99/mo+)
Background Information
InMotion hosting specializes in VPS services. It offers a lot more than just that.
On top of VPS, they also offer shared and dedicated servers. Plus, oddly enough, web design. They can help you make a site, host it, and provide you with the tools needed to maintain the site going forward.
They have a team of dedicated associates, all of which come to the job with an average of four years of experience. Support-based staff members also receive more than 160 hours of training at a minimum before interacting with customers. Therefore, you know that you're getting the best of the best.
VPS Features and Pricing
InMotion offers VPS hosting in one of two ways: Managed and self-managed VPS servers.
The managed servers come with a management and security update plan, so business owners can concentrate on the business itself, and leave the complicated matter of site management to InMotion's team of experts.
This is far and away their most popular option, as the majority of business owners are not computer experts, and don't have a dedicated website manager on staff.
Self-managed VPS servers cost less but act mostly as a "blank slate," allowing businesses to manage the site themselves (rather than rely on outsourced help from InMotion). This package comes with server tools, secure SSH keys, and DDoS protection.

The managed VPS servers have three different tiers to choose from.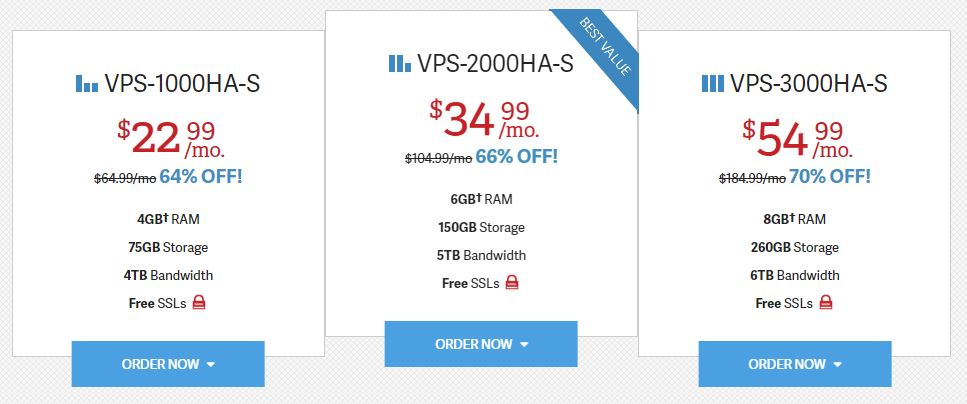 As you can see, they're broken down by RAM, storage, and bandwidth. The prices in the image above are only available with a three-year commitment.
Monthly prices for the 4GB tier are:
$54.99 for one month
$39.99 for six months
$29.99 for one year
$24.99 for two years
$22.99 for three years
Monthly Prices for the 6GB tier are:
$94.99 for one month
$64.99 for six months
$49.99 for one year
$44.99 for two years
$34.99 for three years
Monthly Prices for the 8GB tier are:
$164.99 for one month
$84.99 for six months
$79.99 for one year
$84.99 for two years
$54.99 for three years
All plans come with a 90-day money-back guarantee. 24/7 live chat support is available as well.
2. Bluehost – Most Popular Dedicated Host ($18.99/mo+)

Background Information
Bluehost is known industry-wide for low-cost shared hosting.
They also offer VPS, dedicated, and cloud-based options. (Plus, domain names of course.)
Bluehost was founded in 2003 by Matt Heaton and Danny Ashworth in Provo, Utah. In the last 15 years, it has come to manage over two million websites with a dedicated staff of over 750+ professionals, working 24/7.
VPS Features and Pricing
Bluehost boasts that its VPS services are both flexible and powerful.
That means they allow multi-server management, hence users can add more space to their account at any time, or even a couple VPS with shared or dedicated servers.
They also use only SSD disks which (coupled with their great uptime) provide a fast and reliable experience.
Provisioning occurs instantly, so there is no downtime prior to the VPS launch. They use KM hypervisor to guarantee 100% access to all resources for users.
While they don't yet offer additional CPU and RAM, Bluehost's enhanced cPanel gives you the ability to add additional storage at a moment's notice.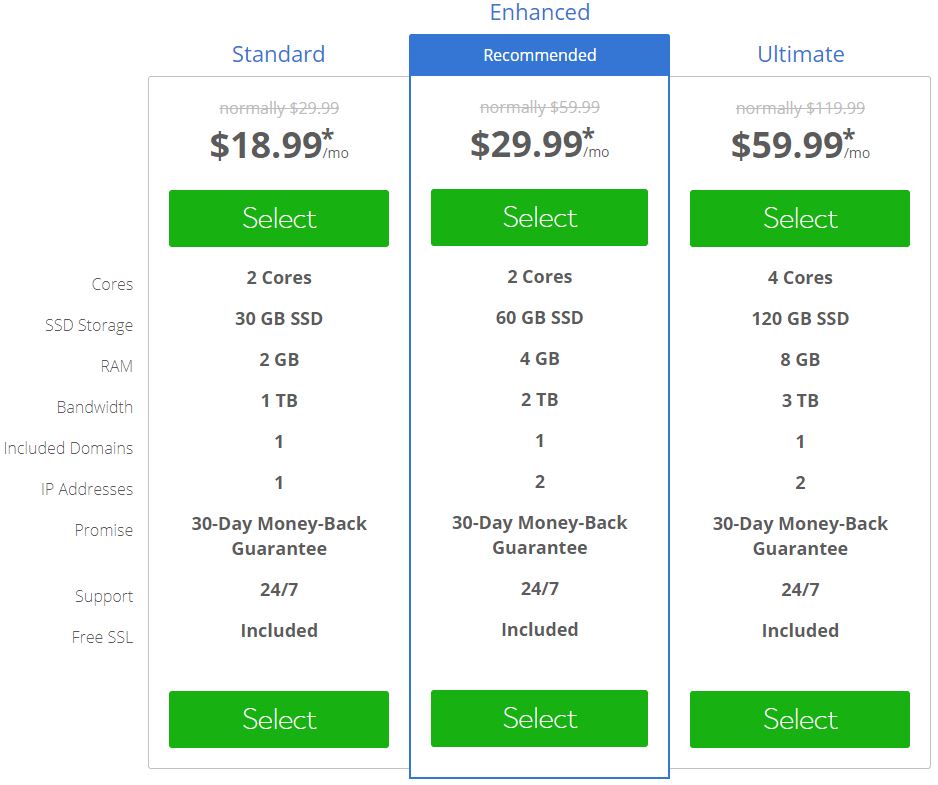 Their pricing starts at $18.99 per month, which is one of the lowest we've seen. However, the listed prices here are a promotional offering that is for the first subscription period only. After that, the price reverts back to its normal rate.
All Bluehost's VPS services are covered by a 30-day money-back guarantee and include 24/7 customer support.
For a low price, they offer a great amount of SSD disk space and RAM, terabytes of bandwidth, premium support, and excellent uptime compared to other VPS services.
3. HostGator – Most Unlimited ($29.99/mo+)
Background Information
HostGator was created in 2002 in a Florida college dorm room by a man named Bren Oxley. Since then, it has gone to open offices in the United States as well as Canada, China, Russia, Mexico, and Brazil, becoming one of the most well known hosting companies in the world.
They offer the typical services one would expect from a hosting service. There are shared hosting, dedicated servers, and VPS. But they also handle search engine optimization, pay-per-click advertising, and web design. It's truly a one-stop-shop.
This is another company with a live chat function and a 24/7 customer support availability.
VPS Features and Pricing
Users have complete control of HostGator's VPS. Customized installations and a configuration geared toward personal preferences make this one of the most versatile options listed.
The servers are all completely autonomous, adding further security to your site. They ensure maximum reliability thanks to a multi-layered security network, which uses multiple bandwidth providers. Data is protected constantly using a RAID 10 disk configuration.
HostGator's service has the same level of scalable flexibility we've come to expect from a top-tier VPS. Scaling up or down is as simple as a click of a button.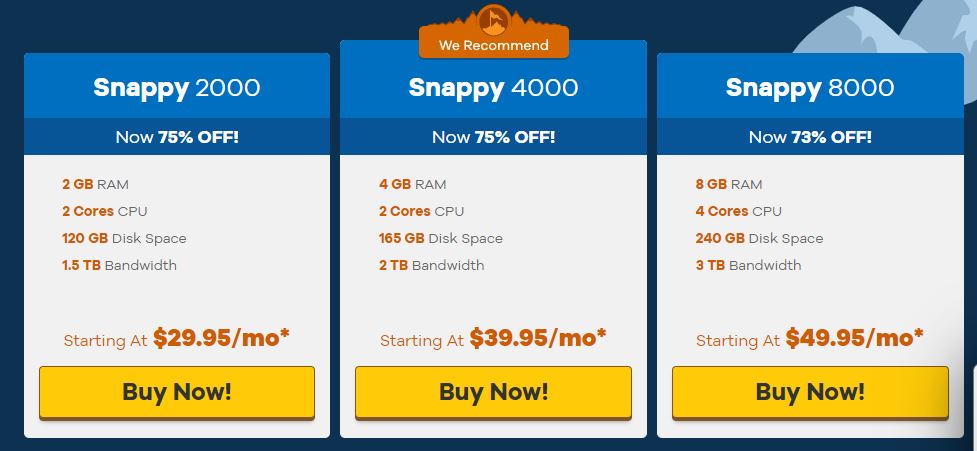 Their tiers range from $29.95 to $49.95 per month. While their lower tier is comparable with many other VPS companies on this list, their 8GB plan is priced below average.
4. iPage – Low-Cost VPS Hosting ($19.99/mo+)
Background Information
Established in 1998, iPage has hosted over one million websites on its platform in the last 20 years.
They assist clients with the design of their site, the creation of an email system, and can even guide users through the entire site-creation process until the site is ready to launch.
They offer VPS services, along with shared hosting, dedicated servers, and WordPress hosting. They specifically cater to small businesses, operating on three pillars of service: affordability, reliability, and ease of use.
Their staff is on-hand 24/7 to provide customer support.
VPS Service and Pricing
The VPS service offered by iPage comes with advanced customization through optional root access. Hosting environments are completely customizable, supporting proprietary software and applications.
iPage also offers a flexible, cloud-based VPS service. Migration options are integrated seamlessly, along with instant provisioning. This gives the end-user the ability to scale their site forward or back as business rises and falls. That flexibility is exactly what you want out of a VPS.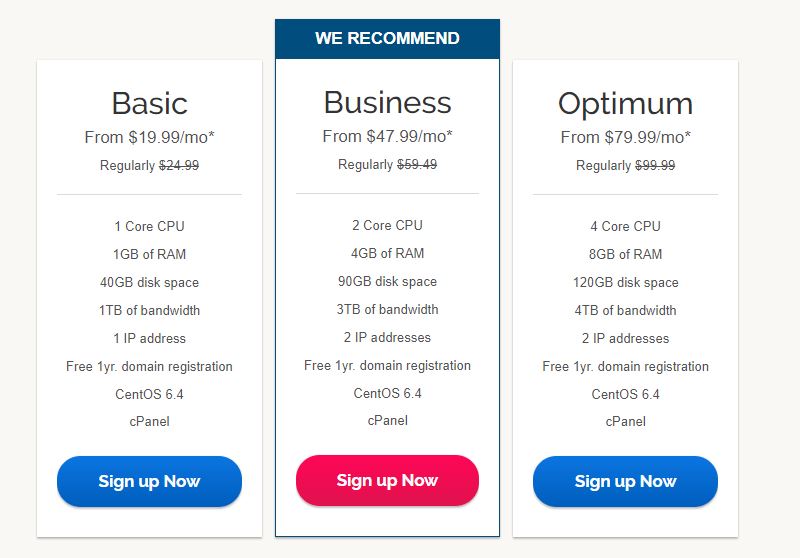 Plans range in size from 1GB of RAM up to eight, with prices rising from $19.99 per month to $79.99 per month. All plans come with a free domain, pre-installed scripts, and 24/7 support.
5. Liquid Web – Most Expensive Option ($69/mo+)
Background Information
Liquid Web has been around for over 20 years. On top of VPS services, they also offer dedicated hosting as well as managed WordPress and WooCommerce-based websites.
Liquid Web is a fully managed service, taking on all server administration tasks, such as:
Managing hardware
Managing the network
Support for the operating system and pre-installed software
Security updates and patches
Proactive service monitoring
Restoration of services
VPS Features and Pricing
Liquid Web offers a bunch of different fully-managed, cloud-based VPS plans, broken down by RAM and disk space.
The amount of management Liquid Web provides is customizable and varies based on the server in question.
Their VPS platform supports seven different operating systems, but will not work with custom systems.
All software is customizable to the user's taste, and all subscribers have access to Liquid Web's Heroic Support Team, who are available 24/7.
All VPS plans can be easily upgraded with just a click of a few buttons.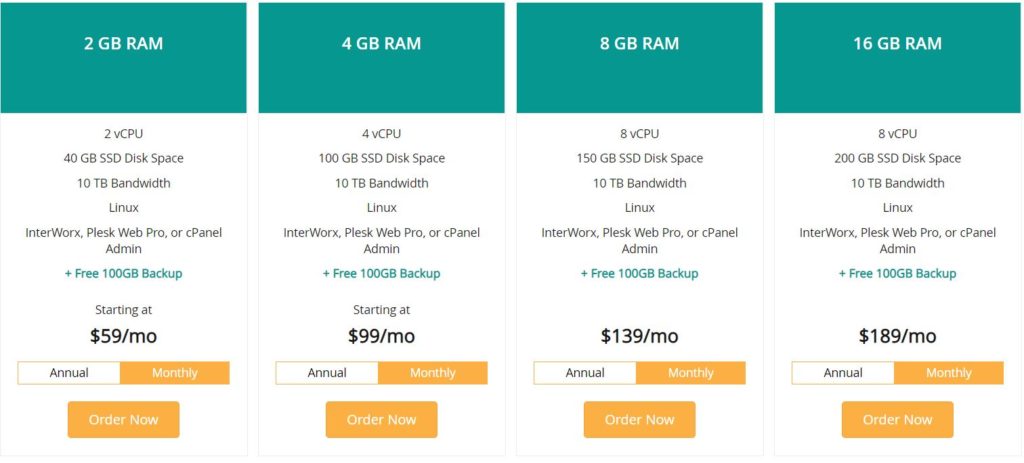 As you can see, prices range from $59 per month up to $189, depending on RAM and disk space. Most plans work on Linux or Windows operating systems, except for the 2GB tier which only operates on Linux.
It's also worth noting that they offer a 16GB plan (which many other services do not).
6. Hostwinds – Cheapest VPS Hosting ($5.50/mo+)
Background Information
Hostwinds is an award-winning hosting company founded in 2010.
They operate under the belief that affordable pricing and superior service aren't mutually exclusive, while their site promises that all users will be treated with honesty and respect.
They also offer shared hosting, business hosting, and dedicated servers, along with domain names.
The company has a live chat function and support is available 24/7.
VPS Features and Pricing
VPS features on Hostwinds come in both managed and unmanaged varieties. Users can choose from either a Linux or Windows-based product (either one doesn't work on both systems).
Their fully-managed VPS plans are set up instantly and backed up nightly. They use solid-state drives, which are physical pieces of hardware that store user information. This ensures that if an outage or hack ever occurs, all of your most valuable information is safely kept off the network.
They boast a 100% satisfaction guarantee and offer free website transfers. The company's redundant network uptime is clocked at 99.99999%, meaning that your website will be available whenever you want it.
What's more, their extensive cloud control panel allows users to control their servers from anywhere in the world.

Hostwinds' lowest level of pricing is just $5.17 per month. That's incredibly low, but it also only includes 1GB of RAM (most competitors' plans start at 2GB). Their highest package is 6GB with $23.97 per month. Note that the price increases after the introductory period ends.
If you're looking for some more power, Hostwinds also offers a number of add-on tiers.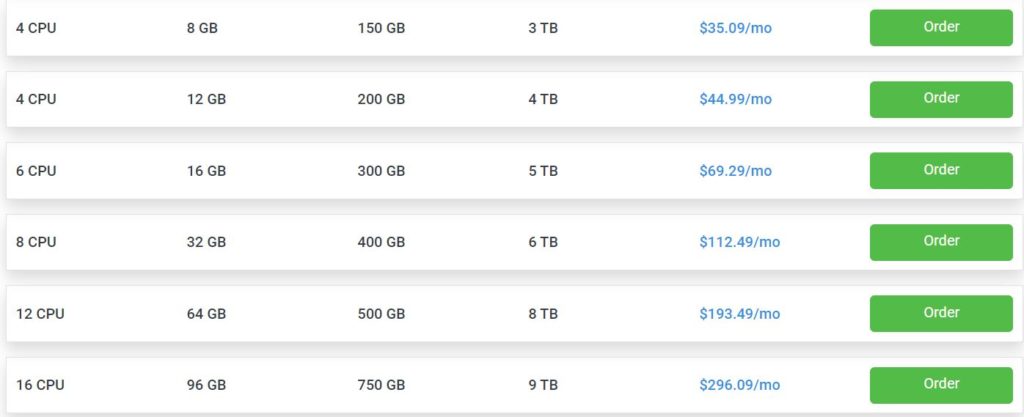 7. FatCow ($19.99/mo+)
Background Features
FatCow is another industry stalwart, first opening its doors in 1998. The company was created to be a simpler, more customer-friendly approach to hosting, without the complicated jargon a lot of other services out there like to throw around.
They offer everything from standard hosting services, like VPS, shared hosting, dedicated servers, and WordPress management. They also make it fun throughout their colorful website with lots of cow-related puns and easy-to-understand language.
When asked why you'd call a hosting company FatCow, they said, "why would you call a computer an apple?"
VPS Features and Pricing
FatCow's VPS service comes in with three different plans.
All of them include optional root access, a user-friendly control panel, easy scalability to coincide with growth, 24/7 customer support, and guaranteed memory.
These plans also come fully managed.



These plan prices range from $19.99 to $79.99 for your first term. After that, they go up, ranging from $24.99 to $99.99.
All plans also come with a money-back guarantee, so there is no harm in trying them out.
8. JustHost ($19.99/mo+)
Background Information
JustHost offers both hosting and VPS services, hosting over one million websites to date.
They benchmark many of their other competitors, offering everything from a free domain name for new customers to simple site migrations, email addresses, and e-commerce functionality.
VPS Features and Pricing
JustHost's VPS hosting starts up instantly in the blink of an eye.
Every plan in their VPS tier comes fully managed, meaning that the end-user doesn't have to worry about constant maintenance. Despite that, full root access is available whenever a user wants it.
Their VPS services are all cloud-based, a specially enhanced control panel environment has proven to be very user-friendly. Users can also have multiple accounts under one umbrella, making it easy to switch between them.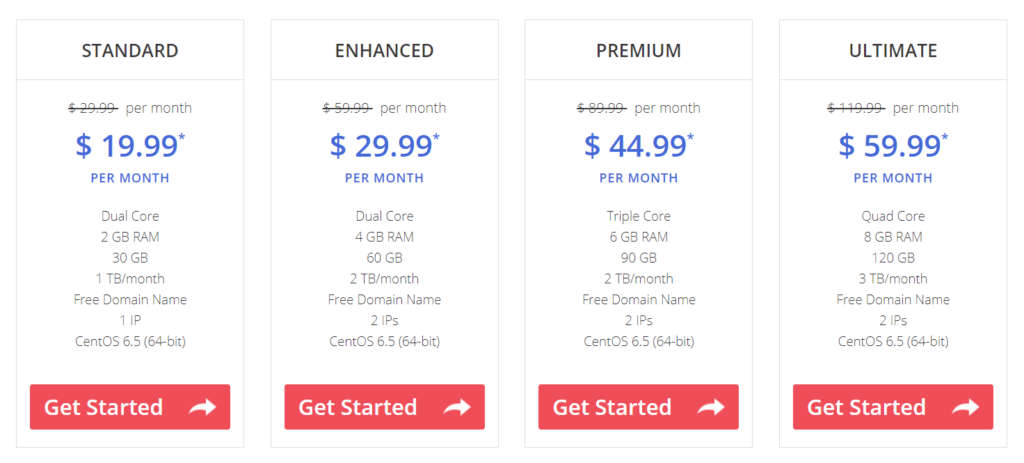 RAM ranges from 2GB at $19.99 per month all the way up to 8GB at $59.99 per month. This is another of those services that have specific pricing for the first term of service. After that first term, the prices will rise up to $29.99 per month for 2GB and a significant $119.99 per month for 8GB.
All of these tiers have a 30-day money-back guarantee.
9. InterServer – Windows & Linux VPS Servers ($6.00/mo+)
Background Information
InterServer started in Secaucus, New Jersey 19 years ago. They are a hosting service company that specializes in shared hosting, dedicated servers, and VPS.
Some interesting features offered by InterServer include a price lock guarantee (meaning that whatever price you have when you sign up is the price you'll keep), a 30-day money-back guarantee, and 24/7 customer service.
VPS Features and Pricing
InterServer has a number of different options, offering 16 different levels of VPS service on the Linux and Windows operating systems.
With that many options, almost anyone can find something that works for them.
This VPS allows users to deploy hundreds of different apps throughout their cloud-based service and offers free migration to help bring new clients over from their previous host.
And they're so confident in their service that they guarantee 99.9% uptime.
Provisioning is instant, allowing users to take command of their server the moment they need it. Also, its high-performance storage system works 20 times faster than standard drives.
Plans start at 1GB and go all the way up to 16GB.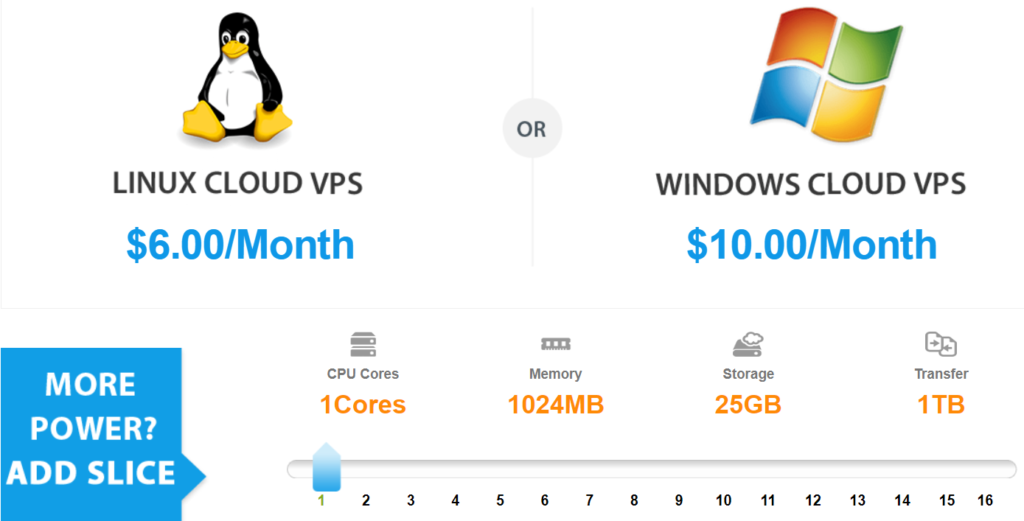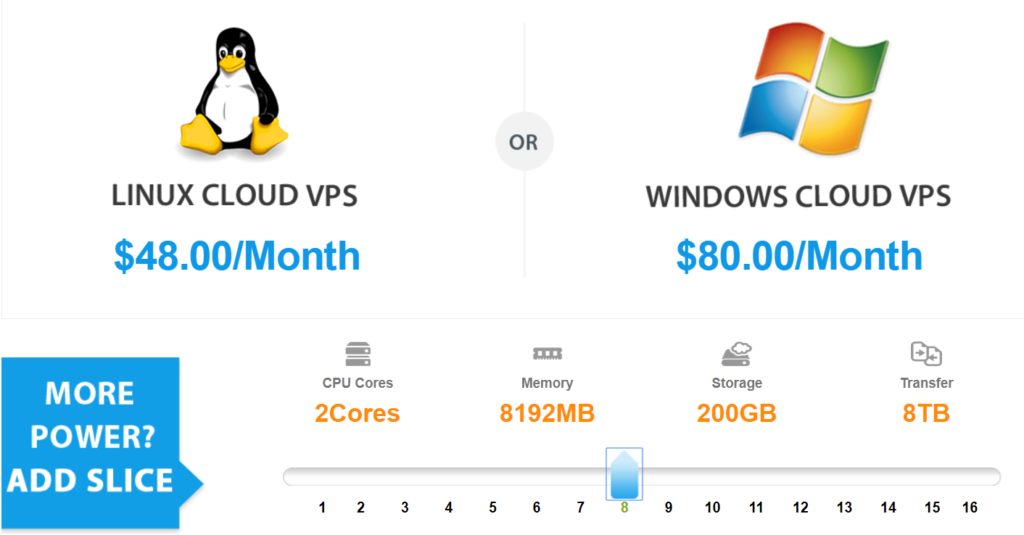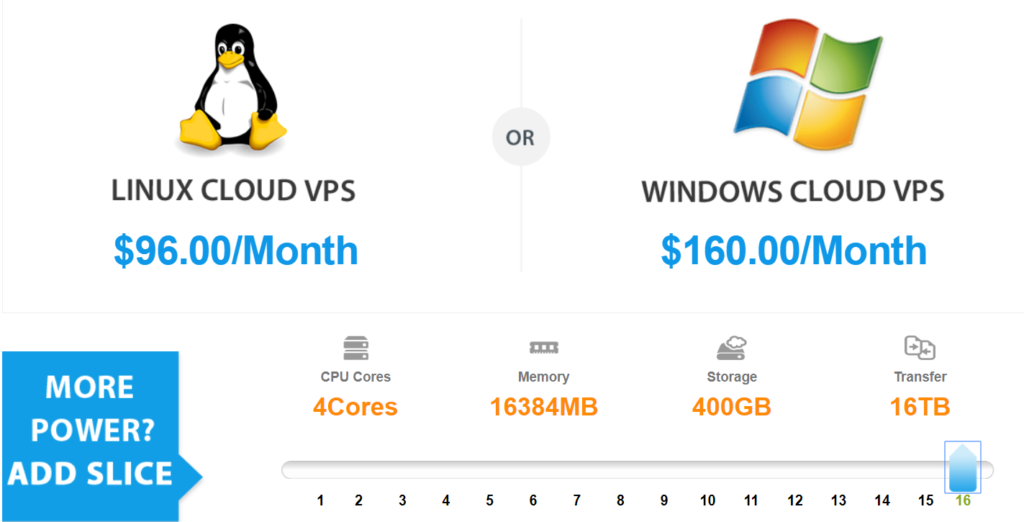 Prices here start really low at just $6 per month but rise dramatically as you add more RAM and disk space, reaching $160 per month at its most expensive.
See InterServer VPS Plans
10. StableHost ($9.12/mo+)
Background Information
StableHost first opened its doors in 2009.
Since then, this relatively-small team of 15 has scaled the platform to offer both shared and unlimited hosting, WordPress hosting, domain names, SSL certificates, and virtual private servers.
The company runs off of SuperMicro gear in a clustered configuration, which equates to 96BG of RAM, dual E5 CPU, and enterprise-level SSD drives. Clients can also host their sites out of Phoenix, Amsterdam, and Chicago at no additional costs.
VPS Features and Pricing
StableHost runs a VPS service that provides users with five different tiers to choose from (vs. only four from other competitors).
The Enterprise-level hardware is at the forefront of innovation within the hosting industry, so everything about StableHost is brand new and top of the line.
KVM virtual machines help the process of installing your own operating system. You'll never have to be chained by an outside system again.
Account setup takes about 24 hours, but that's because all VPS systems have to pass a thorough fraud screening before they can be used.
The servers work at gigabit speed, which goes up to 1000Mbit per second.
All VPS plans have root access, and they come unmanaged with no control panel by default.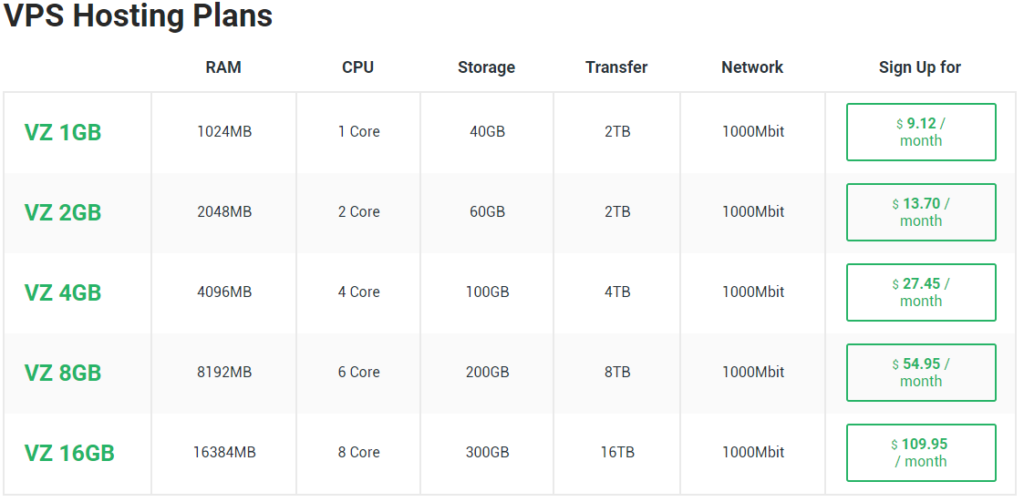 Plans range from 1GB of RAM priced at $9.12 per month all the way up to 16GB of RAM at $109.95 per month.
See StableHost VPS Plans
11. OVH – Best "Unmanaged" VPS ($3.35/mo+)
Background Information
OVH claims to be the number one hosting service in Europe.
This UK-based company has an impressive portfolio, featuring over 300,000 servers and 27 data centers located in 19 countries. Over 18 million web applications have been hosted on their servers.
They claim to have 1,300,000 customers, including 155 of the 1,000 largest companies in Europe (with another 500 among the largest international companies).
They've been designing and creating their own servers since 2002, so this isn't their first rodeo.
VPS Features and Pricing
OVH replicates all customer VPS data internally.
The OVH VPS 2016 is the most recent upgrade, following their VPS 2014 platform. The drives were upgraded from one level to the next, with a layer of modern software that improves the user's ability to manage the overall VPS infrastructure.
The VPS can be installed, configured, and managed directly from the user's control panel.
OVH has three different levels of pricing, but they're not broken down by RAM and disk space like other entries in our list. Instead, they are categorized by availability (uptime), ranging from 99.95% to 99.99%, which is guaranteed through a Service Level Agreement (SLA).

The SSD VPS costs $3.35 per month for a year, Cloud VPS is $8.95 per month and Cloud RAM VPS costs $11.87 per month with a 12-month commitment.
Conclusion
VPS hosting options are a step-up from overcrowded shared hosts for serious site owners.
They also offer more flexibility than dedicated servers, without all the maintenance hassles.
But there's no shortage of options. So here's how the best VPS hosting providers stack up:
InMotion's team of experts will manage everything from the domain, to site design and ongoing performance.
Bluehost is infinitely scalable, offering low-cost hosting plans on up to multi-server VPS management for more space and servers.
HostGator offers autonomous hosting for security-minded consumers.
iPage offers completely customizable hosting configurations that support proprietary apps.
Liquid Web offers up to a monster 16GB RAM plan for some of the biggest sites on the internet.
Hostwinds is one of the lowest-priced, with a small plan clocking in at only $5.17 per month. Perfect for those dipping their toes into VPS waters for the first time.
FatCow provides three, all-in, fully-managed VPS options, and a customer-friendly attitude.
JustHost is ideal for those managing multiple client or project setups from one single account.
InterServer has over 16 different VPS configurations to choose from, across both Linux and Windows operating systems.
StableHost exceeds the normal four tiers with an additional fifth.
OVH is one of the biggest platforms, with 300,000 worldwide servers hosting 18 million web apps, including many of the largest companies in Europe.
No matter what complex setup you have in mind, there is a VPS host on this list that will fit you like a glove.
Frequently Asked Questions – VPS
---
+ What are the Advantages of VPS
---
+ What\'s the difference between a VPS and shared hosting
---
+ Who is VPS for? Who is it not for?